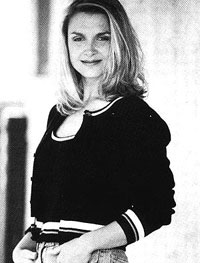 Pamela Alster's "Robin's Blue" is a beautifully detailed journey of an ambitious young woman's wildly colorful experiences throughout the decadent seventies and eighties with a magnificent balance of poignancy and pathos. I couldn't put it down until I read the last juicy page!            –Christy McBrayer, writer/performer Southern Fried Chickie
The philosophers say "know thyself" but the admonition carries its own dangers for the heroine of Pamela Alster's stunning novel, a brutal yet compassionate exposé of her protagonist, Robin, a paragon of honesty and self-deception, a cunning dissector of her own foibles and those of her lovers, friends and enemies. Under Alster's sure touch – a mash-up of a calibrated literary eloquence with the punk directness of a sucker-punch – Robin emerges as a girl and woman who's her own best friend and worst enemy: a tender masochist, an unrepentant liar and fearless truth-teller – or maybe the other way around – a subversive infiltrator of her own heart. Read this book. It may be trite to say: you'll laugh, you'll cry. But I did.             — Les Plesko, author of Slow Lie Detector.
– "Robin's Blue" is a brilliantly vivid time capsule of blank generation 80s decadence fused with a poignant and sensitive coming of age tale that's totally timeless. – Erik Himmelsbach-Weinstein Former managing editor, Spin, Los Angeles Reader Contributor, Los Angeles Times
Pamela Alster is one of those rare, gifted writers who can make you laugh through tears. Over many years of friendship and professional collaborations, I have had the privilege of reading her writing and seeing her work performed. Her characters grab you by the heart and stay with you, and you'll find yourself telling her stories to other people because you want them to share the experience.  — Kathleen Alden Guthrie, writer
"Robin's Blue" is a personal, provocative and addictive read. Pamela Alster has captured the 1980's in such vivid, visceral and authentic detail, you'll almost smell the Jean Nate! I cannot recommend it more highly. Loved it! –Nora Lynch, writer/comedienne
Pam Alster's strong, passionate narrative voice has always been an inspiration. Her debut novel "Robin's Blue" is the compelling story of a brave, ambitious, and resilient young woman and her struggle to carve her path away from her narcissistic father and sister. A survivor's journey, the novel is set in the eighties, and describes vividly a decade of sex, discos and cocaine. A real page turner! –
Patricia Albela, music journalist, currently working on her debut novel
I've had the great pleasure of knowing both Pam Alster and her writing for over a decade, and her vivacious personality, her wit and intelligence all come to life on the page. In her debut novel "Robin's Blue," Pam delivers a page-turner from beginning to end, taking us on a fabulous and wild ride grounded in the emotional depth and pain of a profoundly moving story that is not to be missed. – Apryl Huntzinger, former TV writer/novelist
Pam Alster is my go-to for the insightful written word. With a strong dose of wit and heart, she is my favorite "recommendation lady." – Cecil Kepner, co-author/performer Millenium's Eve, writer/performer Escape From Costa Mesa, comedian
I literally couldn't put "Robin Blue"down from the moment I picked it up. As I devoured this deliciously juicy book, I was eager to see what highs and lows Robin would experience as she searched for love "in all the wrong places." Alster has written a highly entertaining cinematic style book with great attention to the rich emotional life of her character and the era she lived in.  – Monique Feig, Digital Media Professional
Pamela Alster's "Robin's Blue" is a skillfully crafted the tightly devised page-turner chronicling the protagonist's turbulent young life. Robin Daniels is young, beautiful, sexy and tough. Alster provides a detailed inner life; Robin's hopes, desires and vulnerabilities demand understanding, sympathy and respect for her strength. This complex story, told with a timeless voice, leaves you breathless and involved –a book I couldn't put down until the end. I am already awaiting a sequel.
-Thessy Mehrain, Vice President JPMorgan Chase Bank Worldwide Securities
Pam is as smart as she is beautiful. I'm not sure I want to read her book because it'll be beautiful as well and my self-esteem isn't up to it. Really Pam, enough is enough!
-Teresa O'Neill, former writer/producer on such shows as Home Improvement, Becker and Night Court